Helping You Create
Wealth for Life, and Beyond
With insights featured on:
Intelligent Investments Webinar
Sign up to be notified of the next date for our NEW webinar
Intelligent Investments: Powered by Real-time Technology
"7 out of 10 people don't have a comprehensive financial plan for their retirement."
-Ken Fletcher
Outliving your money is a near universal fear.
Most people simply don't know how much money they will need in retirement, nor are they aware of what their current investments will yield once they get there. This unawareness creates confusion, insecurity, and fear...
Fear that you'll live "too long," and not have the funds to see you through to the end of your life.
Fear that your retirement will be characterized by financial stress instead of relaxation.
Fear that if you spend any money on adventures, you'll be lacking when it comes to the essentials.

By working with Fletcher Financial Group, you can transform this fear into confidence, freedom, and peace of mind. Let's start building your Life and Beyond Plan today.
Helping you hit your financial target

Just as there is a key combination of factors in archery that guide an arrow to its intended target, there is also a key combination of factors that will help you to reach your retirement goals.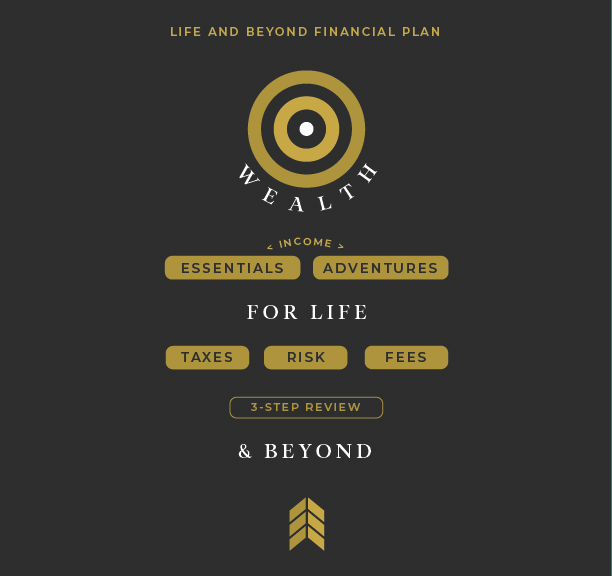 Leave nothing to chance
You and the experts at Fletcher Financial Group are the archer

,

working together to create a comprehensive financial plan for your retirement.

The exact amount of wealth you'll need is the target,

making sure to cover both the essentials

and

the adventures. (If you don't know this number yet, don't worry—most people don't until they've met with us!)

Your actual dollars are the arrow

—the investments and assets that make up your net worth (and just like the arrow, they are constantly wobbling off the path you've set them on—except in the case of your money it's taxes, risk, and fees pulling it off course).

Your Life and Beyond Plan is the fletching

, helping everything to stay on course and ensuring you hit the financial target you've set for your retirement.
The archer leaves nothing to chance, and neither will we. It's time to work together to create your plan for accumulating, investing, and enjoying your wealth.
Are you ready to move beyond financial uncertainty?
Build your Life and Beyond Plan with Fletcher Financial Group, and start feeling good about your golden years again.
Our Process
We will help you set a realistic goal for monthly retirement income to cover both the necessities and the adventures that make life worthwhile. Then, we will back into YOUR TARGET - the specific amount of wealth you must accumulate - capable of delivering those checks to your mailbox … for as long as you live.
Our 3-Step Review simultaneously monitors taxes, risk and fees, often finding significant dollars falling through the cracks. We'll help you take back control of those dollars so your plan stays on track.
Many people are happily on their way to a failed retirement because they never set a realistic goal. Ignorance can be bliss until reality arrives. You cannot reach a goal you have not set and have a plan to achieve.
Hear what our clients have to say:
Here's how we help you build wealth
—for life, and beyond
Step 1:
Schedule your 90-minute Planning Meeting
The first step to putting your financial worries at ease is scheduling a meeting with Ken. In this initial, 90-minute meeting, you'll get crystal clear on what you want your retirement to look like, then begin outlining exactly how to get there.
 
Step 2:
Create your Life and Beyond Plan
This is where the bulk of the work happens. In this step, we get specific on what assets you currently have, what you're working to have in the future, and how all of the moving pieces cooperate over the long-term to yield the level of income you'll need in retirement.
Step 3:
Look forward to retirement again!
Once you have your Life and Beyond plan in place, you'll feel confident in your ability to create exactly the kind of retirement you want. No curve balls, no surprises, and no stress. You'll have the peace of mind to be able to look forward to your retirement again!
We understand, sometimes you need a little more information. Book a free, 10-minute exploration call with Ken to briefly discuss your personal situation and options.
"The greatest compliment I've ever received is when clients tell me that because of our work together they finally feel they can give themselves permission to enjoy their wealth."
-Ken Fletcher
FREE VIDEO COURSE:
Your Roadmap to
Wealth for
Life and Beyond
In this four-part video series, we'll go over:
The 4 critical elements to have in your plan

How to know you are on target

The 2 retirement checks to make sure are in in your mailbox

How to minimize taxes, risk, and fees

Using technology to preserve your wealth

Why most planners leave out "beyond"
Whether you've already scheduled your planning meeting and you're eager to dive in, or you've decided to learn a little more before meeting with us, this free course is a great way to educate yourself and begin reviewing your current retirement plans.
For more than 40 years, Ken Fletcher has guided generations of families in the greater North Louisiana area through financial decisions. He helps them make informed decisions, avoid costly mistakes, lower their taxes, increase their estate size, and find money falling through the cracks in their planning so they can redirect those dollars to their family or charity of choice.
As the host of The Ken Fletcher Show and Sunday with Ken Fletcher, an investment advisor, and a licensed insurance professional, he is a sought-after speaker on financial issues, offering seminars and webinars to local clubs, corporations, senior groups, and churches.
Ken lives in West Monroe with his wife, Karen of 44 years, just a couple hours away from his 4 beautiful grandchildren, who lovingly refer to him as "PaKen." Beyond business, his passions include family, faith, biking, and music!